It Works!
Our community mentoring approach is drawing high praise from school principals, administrators and teachers for its documented ability to improve the academic performance, attendance and attitude, and reduce discipline issues, expulsion and dropout rates, of their most at-risk boys.
School records show boys who participated for one school year improved their GPA by an average of 27% and their discipline incidents declined by 85%.
The results from a University of San Diego case study of our program shows,
"Boys to Men played a significant role in improving the lives and educational trajectories of the boys that participated in the program."
While we have developed multiple methods to evaluate our  impact (see sidebar), no surveys, statistics or words can ever document the remarkable positive changes our mentors and staff see in our boys on a weekly basis.
See the amazing transformation yourself.
Growing up without a dad.
"My father left when I was 2. I always thought he would come back. At 11 I realized he wasn't. That's when I stopped caring and started getting in trouble.
I started acting up and being disrespectful to teachers. This got people to notice me, so I did it more and more. I wasn't afraid of anyone and I didn't care about anything, especially my future. One day I was watching a story about prison on TV and I started thinking I wanted to go to prison because it looked fun. I knew I was on the edge. I didn't want to keep doing this but it had such a tight grip on me. I couldn't escape myself.
I never felt accepted and I never felt wanted. I just wanted to die and stop bothering everyone.
Then I found Boys to Men, and got a second chance in life. I started going to the groups once a week.  I could see that they cared. I have never felt that before. Like I was cared about and accepted for who I am. I knew these guys had my back.
I've wanted and waited for this for so long.
Boys to Men taught me so much and I'm not going to let it go. I know what I want out of life and Boys to Men is helping me get there. I thank my life to Boys to Men. I'm so proud to be in this program. I plan to help a boy when I'm a mentor and give them all the support they need to live their life right.
 
And I'm going to make sure my kids don't grow up in the same environment as me."
Joe Ross
6 years later…Watch Joe's journey from a troubled 12 year old boy to a remarkable 18 year old young man. You will be inspired by Joe's amazing transformation.
Our Community
Boys to Men is a community of dedicated men who are able to guide and support young, often fatherless boys on their journey to manhood.
We have a proven approach to producing real change within young men, and we couldn't be more excited to lead the charge in a much overdue movement.  The circumstances and daily environment that many of our nations youth experience is absolutely heart breaking. Despite this reality, Boys to Men can't help but remain passionate and optimistic, for we have found a real answer that produces real change.
What We Do
Every week Boys to Men mentors show up at middle schools, high schools and foster care facilities to give teenage boys a community of mentors who listen, encourage and believe in them. 75% of the boys in the program are growing up without a father.
The community based mentoring approach give boys a variety of male role models who show up consistently, tell the truth about our struggles as men, ask the boys what kind of man they want to be, praise them for their gifts, support them when they screw up, and encourage them to become the man they want to be.
We are dedicated to providing this opportunity to every boy in need.
Boys to Men Adventure Weekend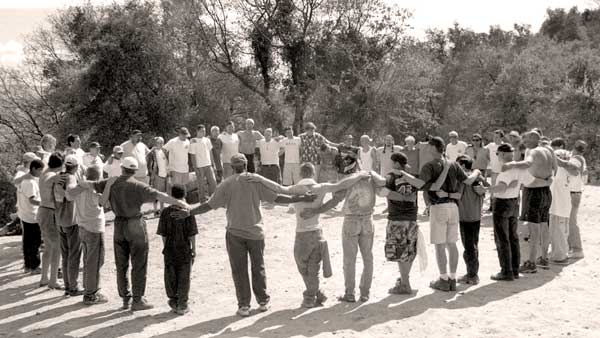 This weekend, held at our rustic Mt. Palomar property, is the next important step for the boys to make a choice in their lives of what type of men they want to be.
This 3-day training is led by experienced facilitators and trained staff, and provides a 2:1 ratio of men to boys. During the weekend, boys are challenged and supported through a series of carefully facilitated activities designed to help boys cope with the ordeals they will face during adolescence. They learn about integrity. They bond with a tribe. They learn about mission and service. Our boys and Mentors spend more time together on this weekend than a typical mentor program provides in six months.
Each day has a specific intention:
Friday: WHO I AM NOW?
Saturday:  WHO DO I WANT TO BE?
Sunday: CHOOSING THE MAN I WILL BECOME
This weekend is a life-changing experience boys never forget.
     Adventure Weekend Video