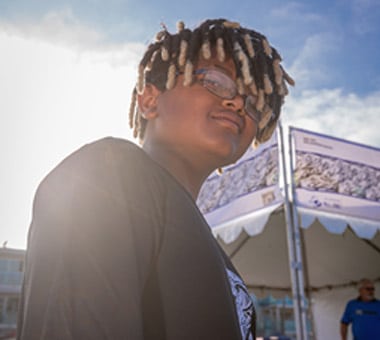 The 100 Wave Challenge, presented by Dr. Bronner's, is the largest annual fundraising event benefiting Boys to Men Mentoring. Every September, hundreds of surfers hit the water at Mission Beach in San Diego, CA to support Boys to Men Mentoring and its programs. World Champion surfer Shaun Tomson and pro surfer Damien Hobgood also participate in the event every year.
Every fall, hundreds of surfers will hit the water at various locations across the country and attempt to catch 100 waves in one day to raise money and awareness for Boys to Men Mentoring. Each surfer is tasked with attempting to catch 100 waves in 1 day and raise $1,000 for Boys to Men Mentoring. Whether you catch 100 waves or 20 waves, you will leave the water knowing you made a difference.
Raising over $475k in 2021, the event has grown to include over 260 surfers and surf angels from the San Diego community.
To learn more about how you can support this year's 100 Wave Challenge, please contact Joe Sigurdson, Business & Community Developer at joe@boystomen.org or call our office at (619) 469-9599.