We're looking for GOOD men.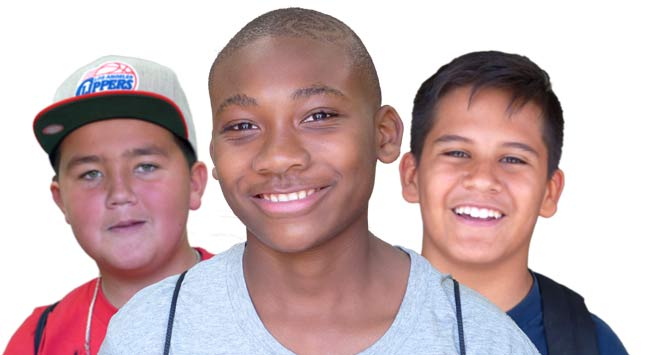 Thanks for your interest in becoming a Boys to Men Mentoring volunteer mentor.
To sign up to be a mentor, email Marco Rodriguez at marco@boystomen.org.
The power and success of Boys to Men comes from a simple concept:  COMMUNITY. 
The school-based group mentoring circles provide a unique and safe entry point for boys and men to get to know each other, and begin the community building process.
Instead of asking mentors to "go it alone," we offer men the safety, support and connection of a community of men.
Boys have multiple, positive role models, including mentors, group facilitators and their peers.
The consistency of weekly group meetings creates connection and trust that allows the boys and mentors to talk openly about the challenges in their lives.
In addition to weekly groups, we offer bi-monthly weekend activities that allow boys and mentors to connect on a personal level (surf nights, fishing trips, football games, camp-outs and leadership development weekends).
IT'S A SIMPLE CONCEPT.  Boys and men spending time together, having fun, listening to, learning from and counting on each other.
Volunteer Mentor Commitment
What we do  –  The Boys to Men method is to provide a group forum where the boys and men go around the room and discuss their problems and challenges.  The mentors contribute by sharing the mistakes and poor choices they made as teenagers, and use their experience to help boys avoid making the same mistakes.
Why? – Only you can answer this question.  
Where  –  We have over 50 weekly group meetings in 33 schools and 2 open community meetings throughout San Diego County.
When – The majority of our meetings are held during the school day. Click here for a complete list of group locations and times.
How long  –  We ask for a minimum commitment of one hour a week for one school year.
Test drive – We encourage prospective mentors to visit a group and "kick the tires" before making a commitment (please call us first).
Training  –  All mentors are required to attend a mentor orientation and receive ongoing feedback and training from Boys to Men staff before and after the weekly group sessions.
Our Guiding Principles
We build communities of men who model what it takes to be a good man.
We don't tell boys how to be good men; we show them.
We don't give advice or lectures. We simply tell boys how, when we were teenagers, we dealt with the very same issues they face. The lessons we learned, and the price we paid for our mistakes.
We create trust by telling the truth about our struggles as men. This gives the boys permission to talk about the struggles they face on their journey to manhood.
We praise boys for their unique gifts and support them when they screw up.
We ask boys what kind of man they want to be, and encourage and support them on their journey to become that good man.
Mentor Testimonials
"As a mentor, I get more than I give.  The joy of witnessing positive transformation in our boys is priceless."  – Chuck
"It is one of the most important things I have ever done in my life." – David
"Mentoring in Boys to Men has changed my life. It gave me a chance to help teens talk and open up in a way I was never able to do as a teen. I think I have benefitted as much as the boys" – Steve
"Being of service to the boys and to Boys to Men has opened and transformed my heart in more ways than I can express. If feels great!"  – Hunter
"Boys to Men has improved my communication and connection with my son Angel."  – Octavio
Are You the One?
Email Marco Rodriguez at marco@boystomen.org.