(San Diego, CA) 172 surfers gathered at La Jolla Shores this morning, for the chance to smash the current world record for the Most Surfers Riding 1 Wave, a feat accomplished 10 years ago in Cape Town, South Africa, when 110 surfers rode a single wave into shore.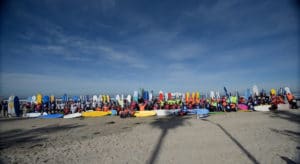 Of 12 attempts, one particular wave (#5) struck spotters as particularly promising. The wave, according to 1 Wave Challenge founder and Valley View Casino Center General Manager Ernie Hahn recalled, "swept up a lot of the surfers in the lineup," leading spotters to believe that the surfers may have ridden a wave into history.
Upon review of film footage, however, the wave that participants had pinned their hopes on came up short of the 111 surfers – standing in unison for a five-second glide – required to break the standing world record.
Hahn said, "It was an incredible experience surfing into history with the 1 Wave Challenge. As I expected, San Diegans came out on a beautiful southern California morning to support an event that brought together Boys to Men, the Century Club of San Diego and the Farmers Insurance Open for an important cause. Everyone who participated in the 1 Wave Challenge is a winner. I'm proud to have been part of such an inspiring community effort."
​Official Judge and Wave Wrangler Bird Huffman took the results to heart, but expressed his determination to lead the way to victory next year. "Although the current record was not broken, the event was very well attended with fun had by all. This was not an easy feat.
The World Record Breaking 1 Wave Challenge & Beach Run invited surfers to share a single wave for the benefit of Boys to Men Mentoring Network, a San Diego nonprofit dedicated to guiding and supporting high-risk and fatherless boys on their journey to manhood. Fueled by Boys to Men's partnership with The Century Club of San Diego's Champions for Youth campaign and a generous Title Sponsorship by Dr. Bronner's All One!, the 1 Wave Challenge shared the weekend with the 2018 Farmers Insurance Open golf tournament.
In addition to offering surfers the chance to break the world record for the most surfers riding a single wave into shore, the 1 Wave Challenge & Beach Run offered 65 runners the chance to participate in an exhilarating 5-mile trek stretching from La Jolla Shores, to Blacks Beach, and to the southern rim of the Torrey Pines Golf Course where the Farmers Insurance Open unfolded. An alternative 5K Beach Run/Walk ensured that 99 joggers and walkers, including families, joined in the fun.
Envisioned as a counterpoint fundraiser to Boys to Men's successful 100 Wave Challenge, the 1 Wave Challenge & Beach Run immerses hundreds of surfers and runners in Boys to Men's inspiring mission, empowering them to expand the positive impact the organization is making in the lives of hundreds of teenage boys.
"The 1 Wave Challenge & Beach Run is powered by the passion of a tribe of bighearted surfers and runners who are determined to make San Diego a stronger community," Joe Sigurdson, Boys to Men Mentoring Network cofounder, said. "It's been gratifying to watch the surfing and running communities come together to raise close to $87,000 for Boys to Men Mentoring Network. We could not be more thankful for the generosity of every one who participated."