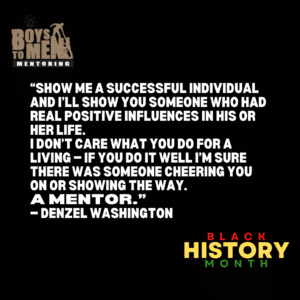 How do we define success? 
Success is defined by "the correct or desired result of an attempt" and "the fact of getting or achieving wealth, respect, or fame" (1). These definitions of success are personal and built around goal setting. 
As we at Boys to Men celebrate Black History Month, we strive to empower and amplify black voices by seeing, learning, and experiencing the world through the eyes of the young black men in our circles. The wisdom and insights we gain from the deep level of sharing that are exchanged in our circles help us to be a stronger community and organization.
Boys to Men recognizes the importance of black mentors and the powerful example they are for our black boys. The boys need a reflection of themselves in leadership roles. Our black mentors create a safe space to guide boys, connecting through shared cultural experiences. It has been shown that relationships between mentors and mentees of similar racial backgrounds are extremely beneficial for youth (2). There has been a steady rise of black mentors in the country, a trend that is strengthening the next generation of black leaders (3).
Our circles provide a meaningful, life-changing impact for boys of color. Our black mentors are role models that demonstrate in healthy ways how to address the boy's anger, sadness, grief, and challenges in life.  Boys are empowered to set goals and receive the support and accountability they deserve to become successful. 
Black History Month has inspired us to reflect on the success that has been achieved and the work that still needs to be done. Boys to Men is dedicated to empowering and amplifying the voices of as many young black men in San Diego County as possible.
Merriam-Webster. (n.d.).

Success Definition & meaning

. Merriam-Webster.

Retrieved from https://www.merriam-webster.com/dictionary/success

Richard, Quenton Angelo. University of Northern Iowa (2020).

Examining African

American Male Mentors Relationships with African American Boys: Benefits, Barriers, Recruitment, and Retention.

Retrieved from:

https://scholarworks.uni.edu/cgi/viewcontent.cgi?article=2045&context=etd

Raposa et. al. Am J Community Psychol (2017).

Trends in Volunteer Mentoring in

the United States: Analysis of a Decade of Census Survey Data.

Retrieved from:

https://www.rhodeslab.org/wp-content/uploads/2017/03/ajcp12117.pdf