BTM mentor to Take On Waves After Three-Year Hiatus
On December 30, 2016, Attila Tota, who had dropped to 115 pounds, had to have his right arm and shoulder amputated in an emergency surgery to save his life. While an aggressive form of skin cancer took his arm, it did not tarnish his passion, dedication and spirit.
Despite his ongoing health issues, Tota has continued to mentor dozens of at-risk teenage boys through Boys to Men Mentoring (BTM), inspiring both the boys and his fellow mentors. He also plans, for the first time in more than three years, to grab his surfboard and participate in BTM's annual fundraiser, the 100 Wave Challenge.
The goal of the 100 Wave Challenge, held Saturday, Sept. 23 in Mission Beach, Calif., is for each surfer to raise at least $1,000 and attempt to surf 100 waves in one day. Surfing legend Shaun Tomson and pro surfer Damien Hobgood are among the surfers participating in the event.
The surf-a-thon accounts for 68 percent of BTM's annual budget, which has doubled since the first event eight years ago. The event raised $373,000 in 2016. This year's fundraising goal is $425,000. BTM plans to sign up 300 surfers this year, compared to 156 surfers in 2016.
Launched in 1996, Boys to Men Mentoring is a Southern California-based nonprofit group mentoring program that helps keep young men out of the criminal justice system and improve their access to higher education. It also facilitates a space where boys and men can openly express the truth about the problems they face. BTM has mentored over 6,000 boys and trained mentors in twenty-four states.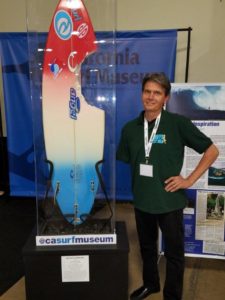 Tota, 61, is the lead mentor for the North San Diego County chapter of Boys To Men. The program serves 786 high-risk boys throughout San Diego County — many of them come from single-parent households with no stable male role models.
Money raised from the 100 Wave Challenge has helped:
Expand the Boys to Men in-school program from 1 school with 16 boys in 2010 to over 700 boys and 28 schools in 2016/2017.
Accommodate the rapid growth by hiring two more part-time group facilitators.
Add another Adventure Mountain Weekend – a weekend getaway for the boys to learn teamwork and examine their path to manhood without the distractions of everyday life.
Tota will also be leading BTM's efforts to expand the program to three more schools in North San Diego County this fall.
"What I have learned is to be willing to receive, never give up, and that there's a solution to every challenge," he said. "It's the challenges that make us grow and appreciate the gifts of life. Since 90% of the 2.2 million people incarcerated in America are men, helping these boys is the greatest contribution I can make, and my way of thanking those that have helped me."
Consider this:
85% of youths in prison grew up in a fatherless home.
It costs about $60,000 a year to incarcerate one inmate, but only $500 a year for one boy to be in the BTM program.
Boys who have gone through the BTM program have:
Improved academic performance
Better school attendance and attitude
Less discipline issues
Less drop-out and expulsion rates
More stats can be found in BTM's online media kit.