The Cohn Restaurant Group's Menus with Meaning series invites San Diegans to open their hearts to the spirit of the holidays while enjoying an elegant, fine-dining experience for the benefit of a special cause: Boys to Men Mentoring Network. The San Diego-based nonprofit is dedicated to helping disconnected, often fatherless boys become good men.
During the month of November, Vintana Wine + Dine is offering San Diegans the chance to savor a special three-course menu, showcasing the flavors of Chef Deborah Scott's signature California-inspired cuisine. While taking in Vintana's panoramic views of San Diego's scenic North County, diners can graze on Mini Lobster Mac n' Cheese or Golden Beet and Fennel Salad, followed by a main-course featuring Seared Diver Scallop or Slow-Braised Beef Short Ribs. A creamy Key Lime Tart or Chef Deborah's Special Brownie — a rich, flavorful confection topped with vanilla ice cream, ganache and walnuts — tops off the feast.
Priced at $39.95 per person, Vintana's Menus with Meaning dinner may be relished with an optional $15.00 wine pairing. Vintana will donate 20 percent of the menu proceeds to Boys to Men Mentoring Network.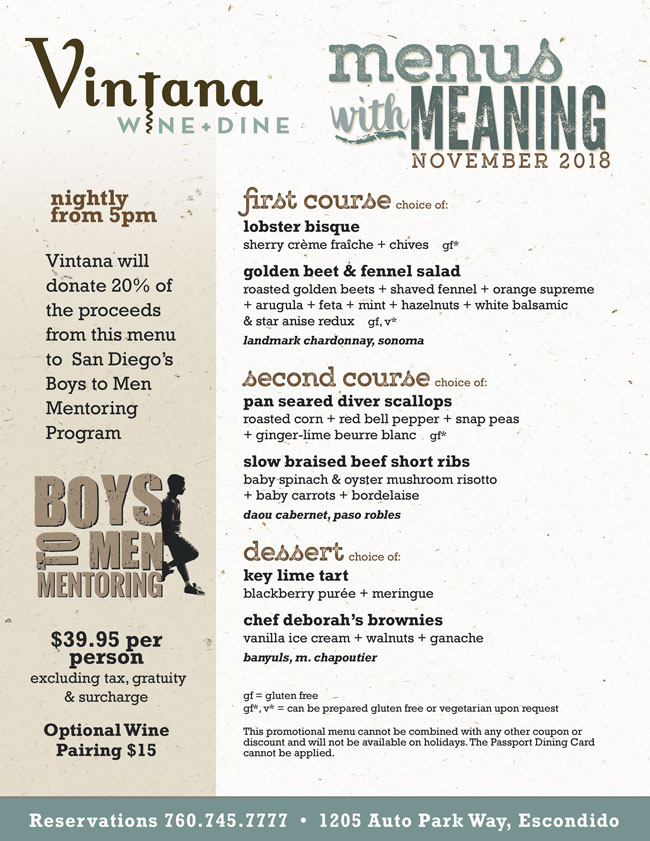 San Diegans are encouraged to consider Menus with Meaning as the inspiration for their next night out on the town. They'll be treated to inspired contemporary fine dining in Vintana's elegant setting atop the Penthouse Level of the Lexus Center in Escondido. At the same time, they'll feel good about lending their support to an important cause: breaking the cycle of gangs, drugs and violence in the lives of boys who are on the cusp of becoming the good men they want to be.
"Good friends and good food are a winning combination," Boys to Men Executive Director Craig McClain explained. "The Cohn Restaurant Group's Menus with Meaning series brings philanthropy to the dinner table. It's a wonderful opportunity for people to savor a meal with family and friends, while doing their part to make San Diego a stronger community."
The Cause: The number of boys growing up without fathers in their lives has reached epidemic proportions. High rates of divorce and out-of-wedlock births have created a generation of fatherless boys. Boys to Men Mentoring Network offers guidance, direction and hope to disconnected, often broken young lives. Drawing inspiration and direction from the surfing community, the non profit is driven by a simple yet powerful idea: In Our Lineup, Every Boy Is Family.
Boys to Men Mentoring Network (BTM) is a community of dedicated men who are able to guide and support fatherless teenage boys on their journey to manhood. Founded in 1996, the nonprofit has a proven approach to producing real change within young men. BTM believes that one of the most reliable predictors of a young man's success is answering the question- Does he have a man in his life to look up to? The circumstances and daily environment that many of our nation's youth experience is absolutely heartbreaking. Despite this reality, Boys to Men can't help but remain passionate and optimistic, for the organization has found a real solution that produces real change.